The Adventures of Unemployed Man from Unemployed Man on Vimeo.
THE ADVENTURES OF UNEMPLOYED MAN
By Erich Origen and Gan Golan
International Bestseller / One of the Best Reviewed Graphic Novels of the Year
"A BEAUTIFUL graphic novel, this really is a HIGH-QUALITY piece of work."- CNN.com
"Societal woes are deftly handled…The Adventures of Unemployed Manis a satirical look at politics, the economy and superheroes-though not necessarily in that order." - NY TIMES
An ABSURDLY FUNNY and VERY SMART TAKE ON THE ROOTS AND EFFECTS OF THE RECESSION." - SF CHRONICLE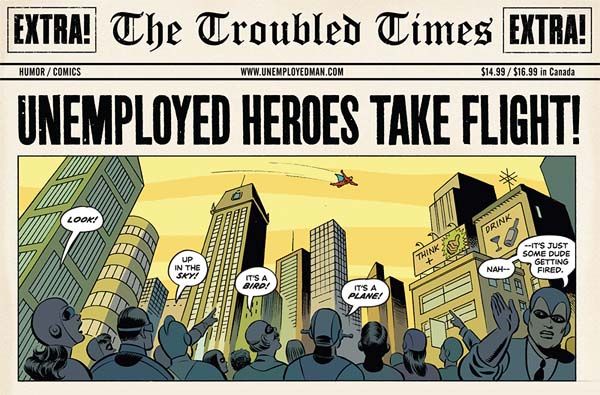 "Exposes, with LAUGH OUT LOUD YET SOPHISTICATED WIT, the desperate situation many Americans find themselves in today." - USA TODAY
BEST NEW GRAPHIC NOVELS: "INGENOUSLY ILLUSTRATED and garnished with trenchant social commentary…FUNNIEST ECONOMIC PRIMER EVER WRITTEN."- SALON.com
"PERFECTLY CONCEIVED IN BOTH TONE AND DESIGN. The Adventures of Unemployed Man is a perfect assessment of the economic difficulties in which many of us find ourselves."- POPMATTERS
INTERVIEWS:
KBOO Portland - Stumptown Comics Fest
KPCC Los Angeles - Patt Morrison
KPFK Los Angeles - Uprising Radio with Sonali Kolhatkar
FOR MORE INFORMATION ABOUT THE BOOK, VISIT THE OFFICIAL SITE
The Adventures of Unemployed Man from Unemployed Man on Vimeo.
THE ADVENTURES OF UNEMPLOYED MAN
By Erich Origen and Gan Golan
International Bestseller / One of the Best Reviewed Graphic Novels of the Year
"A BEAUTIFUL graphic novel, this really is a HIGH-QUALITY piece of work."- CNN.com
"Societal woes are deftly handled…The Adventures of Unemployed Manis a satirical look at politics, the economy and superheroes-though not necessarily in that order." - NY TIMES
An ABSURDLY FUNNY and VERY SMART TAKE ON THE ROOTS AND EFFECTS OF THE RECESSION." - SF CHRONICLE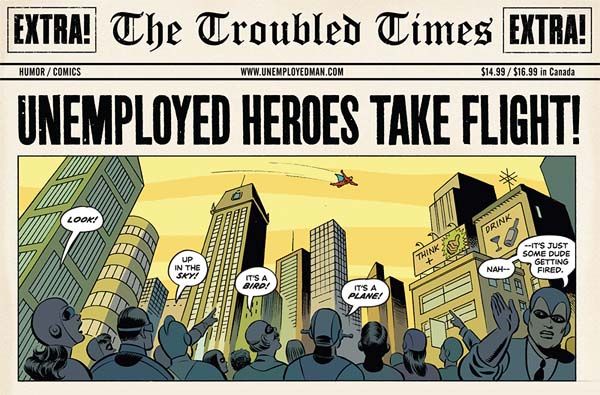 "Exposes, with LAUGH OUT LOUD YET SOPHISTICATED WIT, the desperate situation many Americans find themselves in today." - USA TODAY
BEST NEW GRAPHIC NOVELS: "INGENOUSLY ILLUSTRATED and garnished with trenchant social commentary…FUNNIEST ECONOMIC PRIMER EVER WRITTEN."- SALON.com
"PERFECTLY CONCEIVED IN BOTH TONE AND DESIGN. The Adventures of Unemployed Man is a perfect assessment of the economic difficulties in which many of us find ourselves."- POPMATTERS
INTERVIEWS:
KBOO Portland - Stumptown Comics Fest
KPCC Los Angeles - Patt Morrison
KPFK Los Angeles - Uprising Radio with Sonali Kolhatkar
FOR MORE INFORMATION ABOUT THE BOOK, VISIT THE OFFICIAL SITE