A national campaign for Tax Day that took place in over 12 cities. 
THE MASTER OF DEGREES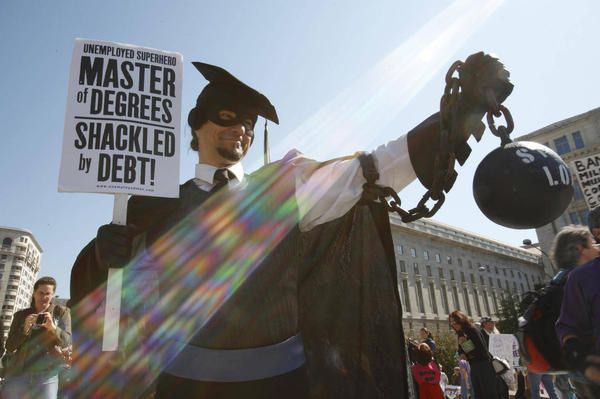 "Forget the ballerina on the bull. The iconic image of the Occupy encampments is a Zorro-masked Gan Golan as the Unemployed Superhero, caped but grounded by a ball and chain marked STUDENT LOANS."
…The costume contained the whole sprawling critique in one playful package: the recession, finance run amok, captured regulators, the betrayal and wasting away of the middle class. It was a comic book version of the message delivered by the Occupy kids who took a page from history and "did knowingly mutilate" their monthly student loan statements — from LA to DC like draft cards they burned."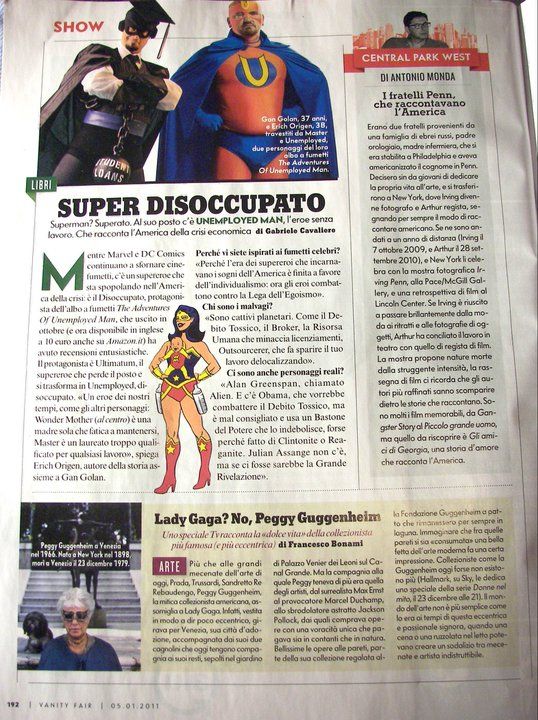 ART STRIKE! A Cultural Campaign vs. the 'Fiscal Cliff'
In collaboration with Favianna Rodriguez (CultureStrike) and Yosi Sargent (TaskForce), I helped design a campaign to bring artists together to fight against proposed cuts to Medicare, Social Security and other basic social services that were being considered as part of the 'fiscal cliff' negotiations in Congress. 
Dubbed ART STRIKE! or #nomorecuts dozens of artists contributed incredible works of art, that you should totally check out. 

I contributed my own poster, "Keep Calm and Tax The Rich" which was chosen by a number of organizations to represent the campaign. Rebuild The Dream and other national organizations then distributed it across the country, and celebrities like Moby and Mark Ruffalo tweeted it, and it subsequently garnered numerous national news articles and nearly 10 million internet hits. 
For more about the campaign, you can check it out here.
VOICE OF ART
THE TAX DODGERS
In the latest episode, the Tax Dodgers play their very first game in Philadelphia, on Independence Day, against a team of everyday people recruited directly from the crowd, The 99%ers. Posing as major corporations like GE, Verizon and Bank of America, the Tax Dodgers rig the game to reveal what the US Economy has become… until their bribery, rule changing and flat-out cheating get them arrested by Ray Lewis, former Philadelphia Police Captain. The Yes Men's Andy Bichlbaum tells how creative activism can break under-reported stories through the mainstream media blockade.
So, are you ready to play ball?
The Adventures of Unemployed Man from Unemployed Man on Vimeo.
THE ADVENTURES OF UNEMPLOYED MAN
By Erich Origen and Gan Golan
International Bestseller / One of the Best Reviewed Graphic Novels of the Year
"A BEAUTIFUL graphic novel, this really is a HIGH-QUALITY piece of work."- CNN.com
"Societal woes are deftly handled…The Adventures of Unemployed Manis a satirical look at politics, the economy and superheroes-though not necessarily in that order." - NY TIMES
An ABSURDLY FUNNY and VERY SMART TAKE ON THE ROOTS AND EFFECTS OF THE RECESSION." - SF CHRONICLE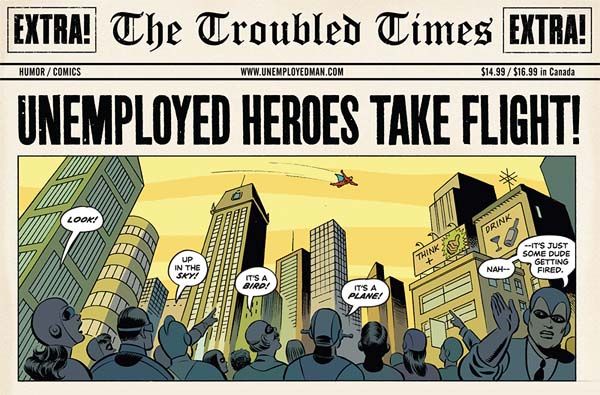 "Exposes, with LAUGH OUT LOUD YET SOPHISTICATED WIT, the desperate situation many Americans find themselves in today." - USA TODAY
BEST NEW GRAPHIC NOVELS: "INGENOUSLY ILLUSTRATED and garnished with trenchant social commentary…FUNNIEST ECONOMIC PRIMER EVER WRITTEN."- SALON.com
"PERFECTLY CONCEIVED IN BOTH TONE AND DESIGN. The Adventures of Unemployed Man is a perfect assessment of the economic difficulties in which many of us find ourselves."- POPMATTERS
INTERVIEWS:
KBOO Portland - Stumptown Comics Fest
KPCC Los Angeles - Patt Morrison
KPFK Los Angeles - Uprising Radio with Sonali Kolhatkar
FOR MORE INFORMATION ABOUT THE BOOK, VISIT THE OFFICIAL SITE
The new book is OUT!
DON'T LET THE REPUBLICAN DRIVE THE BUS
by Erich Origen & Gan Golan
From the satirical masterminds behind the New York Times best-seller Goodnight Bush (more than 125,000 copies sold) comes this scathingly funny political parody of the contemporary children's classic Don't Let the Pigeon Drive the Bus!


Don't Let the Pigeon Drive the Bus! is the story of a creature putting his own impossible desires above everything and everyone, using all means necessary to achieve an end that is ridiculous and disastrous. Denied his impossible ambition, the bird grows angrier and has a full-blown tantrum. Such behavior is par for the course for your average three-year-old. But while a child's tantrum may be "developmentally appropriate," a rampaging id is more frightening in adults – and can have consequences that are far from cute. 

Republicans want government jobs, but they hate government. They prefer "market-based solutions" – like the Great Depression. Yup, the Republicans were driving the bus just before the Great Crash of 1929. After that disaster, Americans kicked the party to the curb and demanded a New Deal. It worked. From the 1940s to the 1970s, America experienced its Great Prosperity. Ever since then, Republicans have attempted to rewrite the rules. Just like the pigeon in Don't Let the Pigeon Drive the Bus! they've tried everything to get us to hand over the keys. So charming, that bird.
The dominance of the Democratic species ended soon after the defeat of Jim Crow. Republicans smelled an opportunity and hatched the Southern Strategy, which has since migrated across the nation with wild success. 

Republican survival is now fully dependent on the American population remaining bitterly divided against itself. 

Today's Republicans are more bigoted and anti-intellectual than ever. They want us to take everything on faith, most importantly the idea that markets are self-regulating — a notion that even Alan Greenspan has called a "mistake." An unrestrained free-market utopia is an impossibility, and attempts to create one have resulted in bubble after bubble.

Not that the Democrats should get a free pass. Like Republicans, they've sold out to the casino-economy policies backed by Wall Street. They've joined the squawking of hawks, backed the indefinite caging of citizens, and flown with the Republican flock in pursuit of Juan Crow. Yet for all their faults, at least the Democrats profess to believe in the common good and occasionally make an effort at being the party of all Americans, not just a select few. 

Ideologies get passed down from one vulture to the next via regurgitation. We hope this book helps inoculate you against this strain of bird flu. In the meantime, if you don't want to get thrown under it, then please… 
DON'T LET THE REPUBLICAN DRIVE THE BUS!

Finally, a book you can say "no" to!
GOODNIGHT BUSH
Written by Erich Origen & Gan Golan / Illustrated by Gan Golan
"A brilliant parody of the children's classic Goodnight Moon, built around the coming end of the worst presidency ever."

Goodnight Bush: An Unauthorized Parody is a hilarious and poignant visual requiem for the Bush administration. In it we see a childlike George W. Bush tucked safely away in the confines of his own room with all of the toys he's willfully destroyed, abused, or defaced. Complete with a quiet Dick Cheney whispering "hush," this bedtime story lets us finally say goodnight to the disaster that was the last eight years.
Goodnight Bush was a breakout hit of 2008, and appeared on the NY Times Bestsellers' List over 10 times. 
REVIEWS:
"You must get your copy of this book….A wicked, savage parody." (Courier-Journal )

"Goodnight Bush stands to become a popular American political parody." (San Francisco Chronicle )

"Seldom have an administration's failings been set to such a lulling cadence." (Salon.com )

"This might be one of the greatest works of fiction of all time ever—up there with the Bible, the Constitution, and those books about the blonde siblings who slept together in their attic." (BlackBook Magazine )
Occupy Wall Street "Tax Dodgers" in the Baseball Hall of Fame
To the mutual astonishment of both sports fans and political activists, The Tax Dodgers, Occupy Wall Street's satirical baseball team, have just been put on display at the National Baseball Hall of Fame in Cooperstown, NY.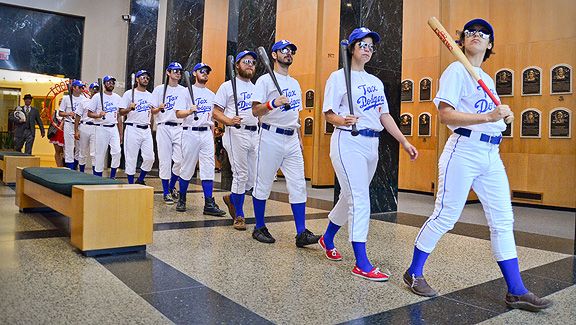 The fictional baseball team features an "all star lineup" of  wealthy corporations who have used loopholes and lobbying to avoid paying their fair share of taxes. The list of "players" include General Electric, Bank of America, Verizon, Exxon Mobile, ConEdison, Wells Fargo and more. The team is accompanied by their own hula-hooping cheerleading squad The Corporate Loopholes.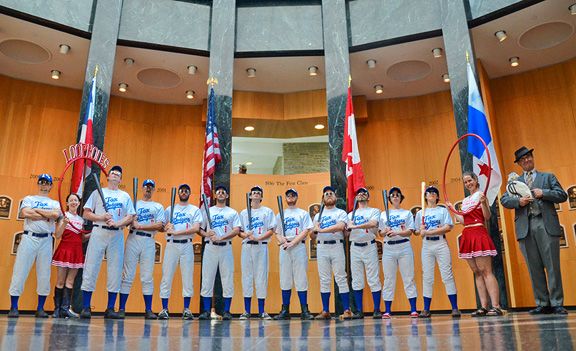 "We're the best team that corporate money can buy," said a player dressed as GE. "We always win because we rig game, rewrite the playbook, and pay off the umpires."
The team's uniforms feature lettering evoking the classic Brooklyn dodgers, circa 1957.  All players share the same number, 1%.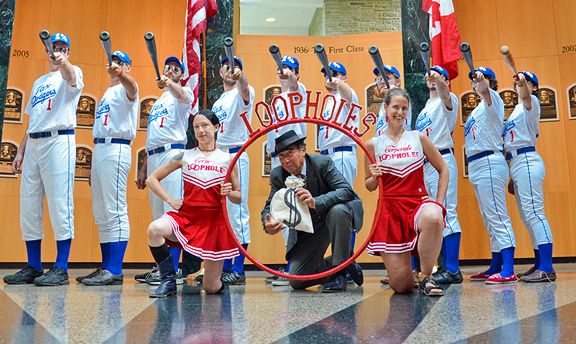 MONEYBALL
While the project is clearly humorous, the issues they raise are no laughing matter. Tax Policy groups have estimated that corporate tax dodging costs the US $100 Billion a year, at a time when the country is being forced to consider budget cuts to basic services like health care, housing, education and social security. 
Wells Fargo commended the teams success: "We've consistently knocked it out of the park. And the roads, schools and hospitals."  
While the average tax rate for Americans is around 35%, some of the wealthiest corporations have found ways to avoid paying altogether. For example, General Electric paid zero taxes in 2010, and then still received over $3 Billion in refunds and rebates. This equalled a negative 45% tax rate. 
Another player, Google, offered his appreciation to fans:  "None of this would be possible without the support of patriotic, hardworking Americans. We would like to thank all of you for paying taxes to keep this great country running….so that we don't have to."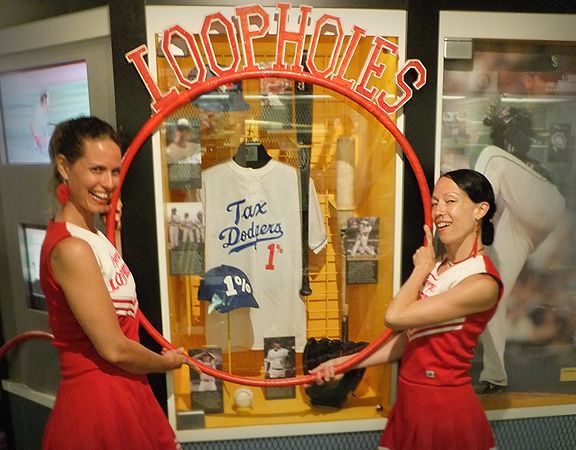 TAX DAY IS PAY DAY
The team formed in January and first performed to a crowd of Verizon workers in front the company's headquarters in New York City. A week later they were in front of 30 Rockefeller Plaza, GE headquarters "to help celebrate their record-breaking achievements".  Since then, the team has made several unannounced appearances.
On Tax Day, April 17, the Tax Dodgers attempted to enter Trump Tower, where Donald Trump was throwing a birthday party for Anne Romney and a fundraiser for her husband and presidential candidate. To honor the occasion, the team brought along their team mascot, a giant 7-foot-tall dancing baseball glove named 'MITT'.  The smiles of the guests indicated that they initially thought the team was  hired entertainment, until the police did not allow them entry. Each of Mrs. Romney's well attired guests then had to confront the team as they exited. 
The team serenaded the finely attired guests with a rendition of "Take Me Out To The Tax Game" as the team's cheerleaders, the Corporate Loopholes, offered a choreographer chant: "Bermuda! The Caymans! Those are the best tax havens! Bahamas! Aruba! Too bad we can't use Cuba!"
Later that same day, the team lead a march of 2,000 union members, which ended near the Post Office as people dashed to file their taxes at the last minute. A"We understand that for many people, Tax Day is not always happy day, since you have to make some sacrifice for the common good. But for us, Tax Day is pay day."
The team then distributed envelopes to the crowd with 'real money' that contained an amount more than what GE, Verizon and Bank of America paid in taxes combined. Inside was a single penny. 
MVP AWARD
Last Sunday, the team appeared at CitiField before the Mets played the LA Dodgers. As the crowds assembled in front of the main entrance to the stadium, the Tax Dodgers presented an award to their star player, CitiBank, for it's success in "stealing homes". Citibank, a major recipient of over $45 BIllion federal bailouts, was recently fined $189 million for committing massive mortgage fraud. 
"For helping to make the economy DOA, we proudly present Citibank with the award for MVP." Said Goldman Sachs, Team Captain.  CitiBank then received a golden trophy in the shape of a homeplate, with the word 'foreclosed' attached it. 
GAME ON!
Afterwards, the 1% team went to Occupy Town Square in Jackson heights and challenged local residents to play against them in a live baseball game, where a "99%" team was picked directly from the audience. However, once the corporate team fell behind 5-2, a 'donation' to the umpire appeared to shift all the calls in their favor. Outraged, the 99% team as well as many spectators on the sidelines stormed the infield, locked arms together and 'occupied' home plate, preventing the Tax Dodgers from cheating any further. 
One  99% player elicited cheers when he yelled: 'Corporate Tax Dodgers, we refuse to play your game any longer. We are calling you OUT!" 
—- 
The Tax Dodgers is a project involving several Occupy Wall Street groups, including the Performance and Puppetry Guild. The project was initiated in partnership with local unions, chief among them United NY. The team is launching their Kickstarter campaign soon, in order to raise funds to create more Tax Dodgers groups across the country.   If you would like to join the team - or play against them - visit: www.taxdodgers.net
VOICE OF ART
THE TAX DODGERS 
In this first episode, Gan Golan, street theater artist and co-author of bestsellers Goodnight Bush and The Adventures of Unemployed Man leads a mock baseball team called "The Tax Dodgers." Golan's guerrilla art tactics developed through his student-activist years at MIT, battling the World Trade Organization in Cancun, Mexico, and eventually taking on powerful corporations alongside Occupy Wall Street
VOICE OF ART
THE TAX DODGERS
In this second episode in the series, Wall Street's least favorite baseball team "The Tax Dodgers" prepare their performance tactics for a big upcoming game. Citizens for Tax Justice illustrate the problem of corporate tax dodging, a former police captain fights against "corporate sociopaths," and The Yes Men and Common Cause detail the corporate hijacking of the US political system through devious means.
Featuring The Yes Men,  Police Capt. Ray Lewis, Citizens for Tax Justice and Common Cause.
SUPERHEROES vs. WALL ST.
THE EPIC SHOWDOWN! 
New York, NY - Once a group of sinister economic supervillains attacked Liberty Square, the heart of the Occupy Wall Street movement in New York City, they were confronted by a team of Working Class Superheroes who rose up to challenge them. The epic battle then raged from block to block (through Trump Tower) and down to the New York Stock Exchange itself!
For the FULL STORY WITH PHOTOS
A NEW SUPERVILLAIN IN TOWN!
BAIN: THE JOB DESTROYER!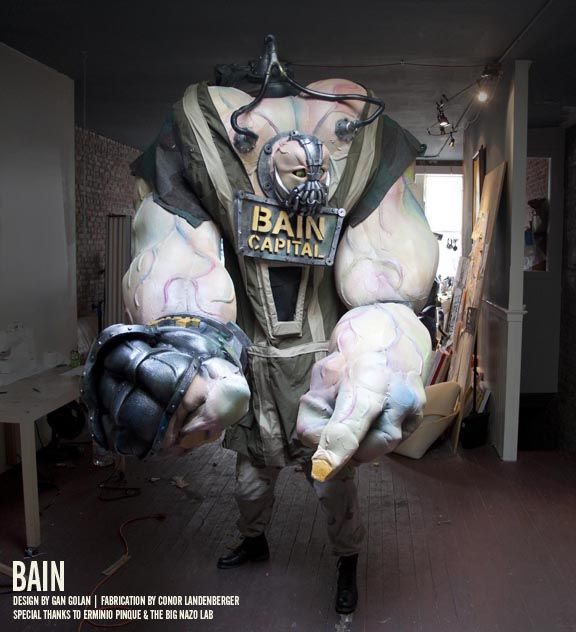 GIANT SUPERVILLAIN ENDORSES ROMNEY FOR PRESIDENT
August 30, 2012
(New York City) - On the same day Mitt Romney delivered his acceptance speech to the Republican National Convention in Tampa, Florida, the massive supervillain known as "Bain" appeared in New York City to offer his endorsement.  
"I am Bain Capital, and today, I stand before you as proof that corporations are in fact people. Okay fine, maybe we are monstrous, cruel and sociopathic people, but still."
The 13-foot-tall supervillain, famous from his appearance in the recent Batman films, recounted the long personal history he shared with the candidate, "For years, Romney and Bain made a killer team. Together, we slashed paychecks, busted unions, gutted the workforce, and killed jobs by the thousands. We squeezed the life out of healthy businesses and left them for dead." To which he added wistfully, "those were good times."
A member of the ominous "League of Shadiness" the ginormous speaker detailed how methods perfected at Bain Capital would be applied more generally during a Romney presidency: "Once we acquire this country, our first act will be to immediately fire all Americans. If you want to stay, you will just have to reapply for citizenship. Sure, individuals may suffer, but no question it will increase profitability over the long run."
Throughout the speech, hecklers who worked at Bain Capital-owned companies interrupted the massive creature with boos. "It's like all of us will be working at Dunkin Donuts," said one protester, citing Bain's history of creating low wage jobs with few benefits.  Others raised the issue of Romney's avoidance in disclosing his tax returns.
Bain assured the protesters that the tax returns would ever come to light. "Trust me, you'll have an easier time locating the Batcave than finding where we've stashed our profits. No. Seriously."
While excited about Romney's imminent speech at the Republican National Convention, Bain did reveal some disappointment in the others who appeared. "To my dismay, I wasn't chosen to give the keynote speech.  It seems they already had a massive, bloated puppet to do the job. Damn you, Chris Christie!"
Finally, Bain addressed some of the criticism of the recent Batman film in which he appeared: "Now I know that some people felt the Dark Knight movie was way too long. Well, deal with it. That's nothing compared to the long dark night you'll experience once Romney is elected."
In concluding his speech the supervillain prodded the crowd: "Why do you people always vote for the lesser evil? This time, just go all the way."
Bain and his secret service detail  on the anniversary of Occupy Wall Street, September 17. He attended the event just to see what all these 'little people' in the world were getting so upset about. 
————————————————————————————
Bain Capital – one-part supervillain, one-part political statement – had perhaps the best costume at the entire 2012 comic convention.

- International Business Times
Among the thousands of attendees at New York Comic Con's busy showroom on Saturday afternoon, one costume stood out among the geeks, freaks, and costumed fans of pop culture. That masked man – one-part supervillain, one-part political satire – had perhaps the best costume at the entire 2012 comic convention.
We never learned the identity of the man trapped inside the seven-foot-tall beast with the oversized arms, a satire of the comic supervillain Bane from the Batman comic books series. But unlike Bain, who uses the "Venom" drug to give him temporary superhuman strength, the costumed villain "Bain Capital" is powered by companies, with a meter that shifts back and forth from "outsourcing" to "downsizing." Obviously, the costumed character was meant to poke fun at Bain Capital, the controversial assetmanagement company co-founded by Republican presidential nominee Mitt Romney.
Despite his scary eyes and enormous fists, however, Bain Capital was a fan favorite at NYCC 2012. Groups of photographers flocked to the hulking puppet as he slowly strolled the giant showroom floor, and several costumed attendees at a time would run up to pose with the "job destroyer" himself.
Bain and his personal secret service detail at the 2012 NY Comic Con
————————————————————————————-
———————————————————————————————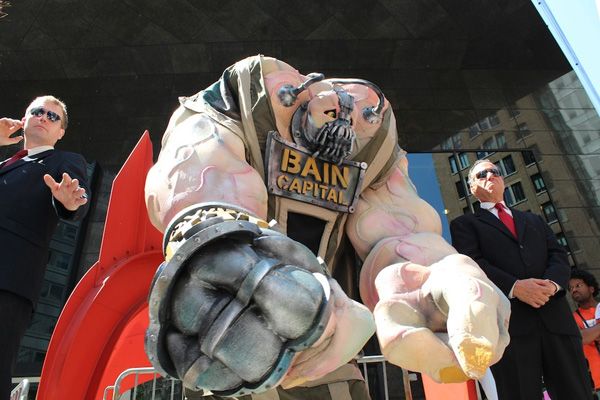 Bain in front of Bain Capital Headquarters in New York City. 
Videos directed by Meghana Reddy and Anghad Bhalla. Starring comedian Negin Farsad.  Bain acted by Daniel Baez with voice by Gan Golan. 
MORE VIDEOS:
PHOTOS: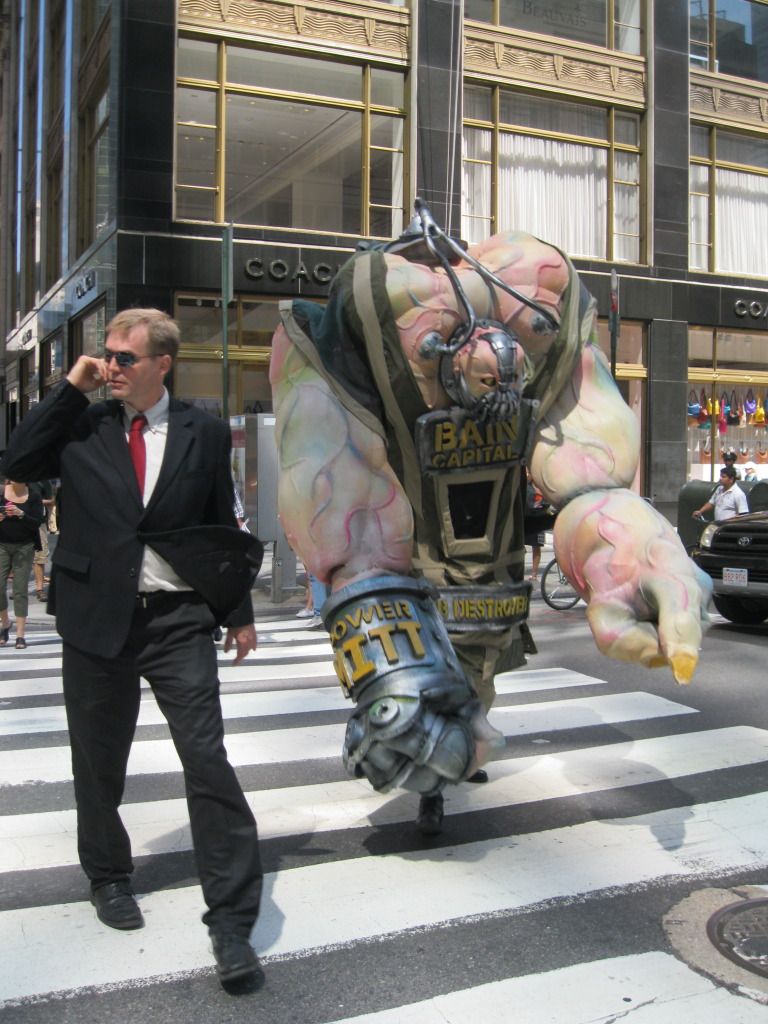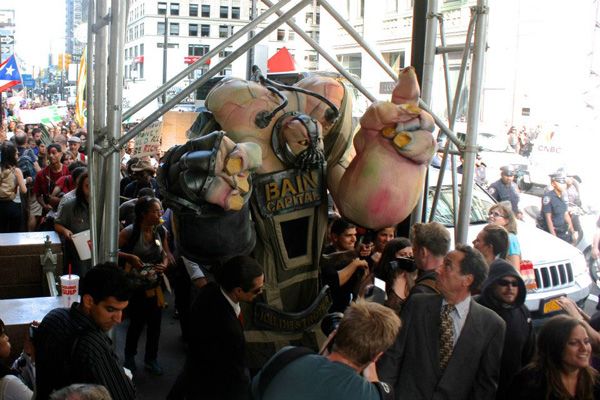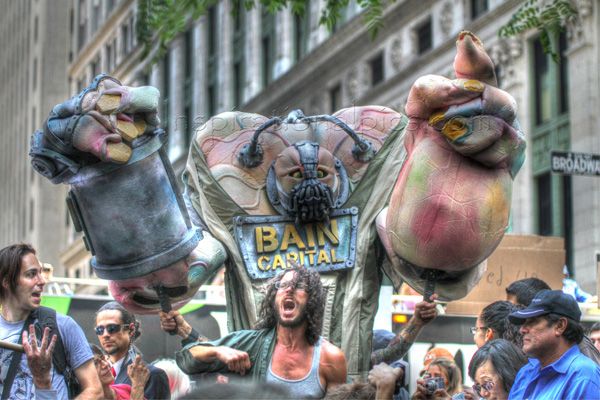 Bain and security in Times Square on Election Night.
BEHIND THE SCENES: MAKING BAIN
The original concept design for the gian puppet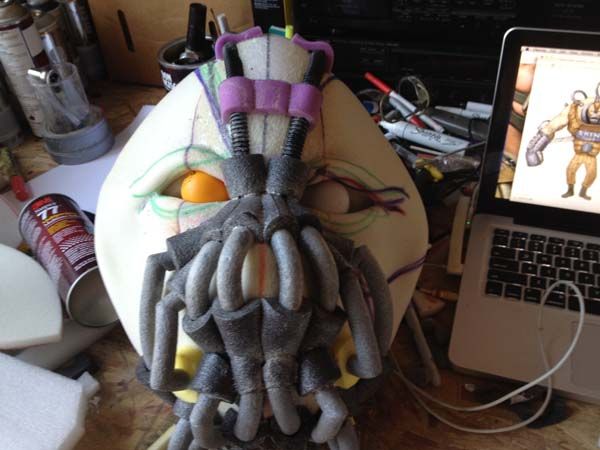 The foam construction in progress, by Conor Landeberger of Big Nazo Labs.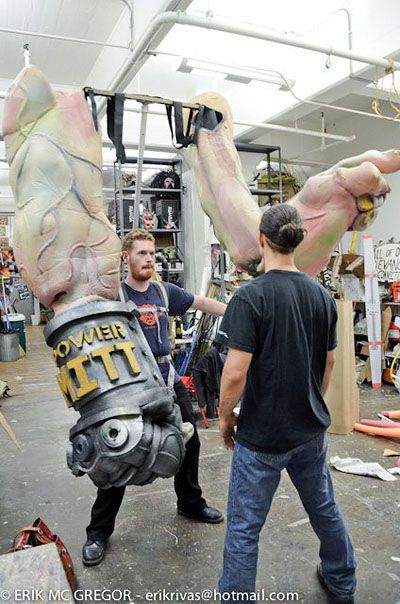 Puppetry training at the OWS Puppet Guild studio. 
Democracy Now! Interviews the (Tax) Dodgers: Going to Bat for the 1%
At the May Day rally in New York City's Union Square, Amy Goodman bumped into the Tax Dodgers — a baseball team on which all of the players share the same number: 1 percent.
ALEC DICKMAN, TAX DODGER: We're a baseball team, and we go to bat for the 1 percent, not the 99 percent. We're the Tax Dodgers, the best team that corporate money can buy.
AMY GOODMAN: And can you describe what you've got here?
ALEC DICKMAN: Well, we've got our full baseball team out here, and we've got all the best heavy hitters in corporate America who are part of our team: Verizon, GE, Citibank, ExxonMobil, Pfizer, Bank of America, Time Warner. You know them all. We're practically household names at this point.
AMY GOODMAN: And what's this that we've got here? It says "Loopholes"?
ALEC DICKMAN: Well, no baseball team is complete without their cheerleaders, and these are our corporate hula hoopers, the Loopholes.
AMY GOODMAN: Can you tell me who you are?
CORPORATE LOOPHOLE: I'm a corporate loophole. I'm what allows these guys to get out of paying taxes and to receive rebates that are billions of dollars beyong.
AMY GOODMAN: So are you guys a winning team?
ALEC DICKMAN: We always win, because we bought the refs, and we own the stadium, and we get to change the scoreboard.
GENERAL ELECTRIC, TAX DODGER: The game is rigged.
ALEC DICKMAN: The game is rigged.
GENERAL ELECTRIC: The game is rigged.
MAN WITH MONEY BAGS: Thanks for my new boat.
AMY GOODMAN: What did you say?
MAN WITH MONEY BAGS: Thanks for my new boat. You should come see it.
AMY GOODMAN: So, why are you smiling then? You'd think—I mean, baseball is sort of supposed to be like good for America. You think you guys are good for America?
ALEC DICKMAN: Well, you know, what's good for the 1 percent isn't necessarily good for America. And we know a lot of people are out there suffering, and they paid their taxes in order to make some sort of sacrifice for the common good. But for us, Tax Day is payday. Some of the biggest corporations in America actually make money on Tax Day. For example, GE, which made over $4 billion in profits, then paid no taxes and got $3 billion in tax refunds and rebates. That's a negative-76 percent tax rate. So that's all money that's coming back to us.
AMY GOODMAN: GE, you mean General Electric.
ALEC DICKMAN: General Electric.
AMY GOODMAN: Isn't that headed by Jeffrey Immelt, President Obama's drug czar?
ALEC DICKMAN: Yeah, that's absolutely true. But, you know, we're able to—we're a very elite team, so we get wined and dined by, you know, everyone in the country, including the President.
AMY GOODMAN: What's your name?
ALEC DICKMAN: My name is Alec Dickman.
AMY GOODMAN: And what about everyone else? Are you—what base do you play, or what position?
GENERAL ELECTRIC: I'm the heavy hitter, the cleanup. I represent GE.
AMY GOODMAN: How about you?
BANK OF AMERICA, TAX DODGER: I'm Bank of America. I'm a job creator, so, you know, all that tax revenue is really helping get the economy going, so keep it coming. Keep it coming.
AMY GOODMAN: How about you?
VERIZON, TAX DODGER: I'm Verizon.
AMY GOODMAN: You are.
VERIZON: Yes.
AMY GOODMAN: And what are you doing with that bat?
VERIZON: With this bat, I'm ready to knock one out of left field for the 1 percent.
AMY GOODMAN: And how about you?
GENERAL ELECTRIC 2, TAX DODGER: Me? I'm General Electric.
AMY GOODMAN: There's two General Electrics here.
GENERAL ELECTRIC 2: That's OK. We play in twos when it's corporate America.
ALEC DICKMAN: We don't need to play fair.
AMY GOODMAN: OK, well, thanks very much.
ALEC DICKMAN: You want a song?
AMY GOODMAN: You have a song?
ALEC DICKMAN: Oh, we've got a song. You guys—
GENERAL ELECTRIC 2: Oh, yeah.
ALEC DICKMAN: Keeping it clean, keeping it clean.
GENERAL ELECTRIC 2: All right.
ALEC DICKMAN: Here we go! We got a song for y'all today!
TAX DODGERS: [singing] Take me out to the tax game
Bail me out with the banks
Buy me a bonus and tax rebate
Never pay nothing, not federal or state
So just shoot, shoot, shoot for the loopholes
It's law, so you can't complain
Where the one, two, three trillion you're out
Since we rigged the game.
Take me out to the tax game
Flip the bird to the crowd
Losers pay taxes, we take rebates
Cause we make the rules for the corporate state
And it's wham, bam, slam through the loopholes
We always win, what a game!
We're the one, yes, the 1 percent
And we have no shame!
ALEC DICKMAN: Go back to work, everyone! Strike's over!
GENERAL ELECTRIC: Thanks for paying your taxes so we don't have to!
GENERAL ELECTRIC 2: Get a job in China, will ya?
OCCUPONIC: We are the Occuponics, and we are the house band for the Tax Dodgers. They pay us a lot of money. I used to be in the 99 percent, but they bought me out.
Protest Gets a Pedestal Among Baseball's Greats
Published: July 22, 2012
Some of the thousands of people who gathered in Cooperstown, N.Y., on Sunday for the annual induction ceremony into the National Baseball Hall of Fame no doubt visited the attached museum to gaze at items connected to memorable moments or the greats of the game.
But one display, near the center of an exhibit called "Today's Game," may have surprised some visitors because of its ties to the Occupy Wall Street movement.
Inside a glass case was a white jersey with flowing blue lettering and a blue hat that might seem vaguely familiar to Brooklynites of a certain vintage. The team name, however, was the Tax Dodgers; the hat displayed a 1 percent logo.
The items, which were donated by a satirical street theater group tied to Occupy Wall Street, have been included in the Hall of Fame Museum not because of their political content but because they reflect baseball's prominent place in the national landscape, said Tom Shieber, senior curator at the museum.
"Baseball is a pervasive part of the American vernacular," Mr. Shieber said. "It's a language we all speak."
The idea to form the Tax Dodgers came early in 2012. A group of Occupy Wall Street activists formed a street theater group to satirize people and companies that use lobbying or loopholes to lower the amount of taxes they pay or to eliminate payments altogether.
The group roamed through Midtown Manhattan on tax day, April 17, swinging baseball bats and singing about economic deception to the tune of "Take Me Out to the Ball Game." They visited the Eighth Avenue post office where last-minute filers were standing in line, said Gan Golan, a member of the group, and brought a giant cardboard baseball mitt, emblazoned with the word "Mitt," to a Romney fund-raiser at the Trump Tower on Fifth Avenue.
As a result of such appearances, the Tax Dodgers gained a modest following, and a friend of Mr. Shieber's sent him a clip of the group in action. Mr. Shieber said he was interested in how the group used baseball imagery to communicate a political message, something that many others had done in the past.
For instance, Mr. Shieber said, the museum already owned sheet music for patriotic songs written in 1943 that used baseball metaphors to buoy spirits during World War II, and it had a Currier and Ives lithograph from 1860 depicting Abraham Lincoln and other presidential candidates using baseball idioms to analyze their electoral prospects.
Mr. Shieber asked the Tax Dodgers if they would donate a uniform, and the group sent one by overnight mail. In July, several members of the team drove to Cooperstown, in uniform and accompanied by two cheerleaders. They arrived to find one of their shirts along with a 1 percent cap and a plaque designed by the museum. Next to it was the bat that the Texas Rangers outfielder Josh Hamilton had used on May 8 to hit four home runs in one game.
Mr. Golan, 38, an artist and writer who moved from Oakland to Brooklyn when Occupy protests began last fall, said that he was pleased with the display and hoped that it would help the group's message reach a wider audience. He added that he had never expected the Tax Dodgers to gain the company of players like Willie Mays and Walter Johnson.
"We're playing the bad guys, and those guys are heroes," he said.
—————————————————————————-
A version of this article appeared in print on July 23, 2012, on page A18 of the New York edition with the headline: Protest Gets a Pedestal Among Baseball's Greats.
A NEW FOOTBALL TEAM!
THE NY 99ERS TAKE THE FIELD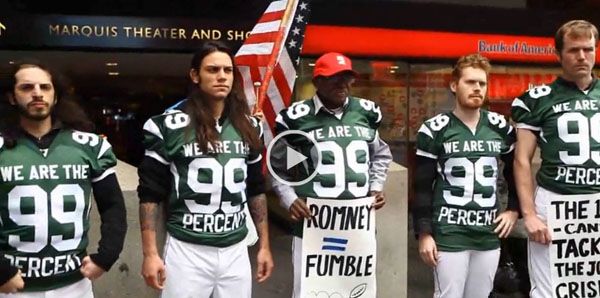 (Video from CNN iReport)
On the day of the NFL Draft Pick, and at the same time that Mitt Romney was holding a private fundraiser with fellow 1 percenter and NY Jets Owner, a new football team, the NY 99ers, appeared on the scene. They stormed the Marriot Marquis hotel in Times Square where the meeting was taking place, chanting: "We. Are. The 99%. Hoowah!"
The text of their speech follows: 
MEDIA COVERAGE:
MSNBC: The Ed Show - NY 99ers form defensive line 
PHOTOS: